The Need
"In an age of heightened accountability, it is crucially important to remember that creating and sustaining good
schools is about more than academic performance…Leaders of elementary schools need to understand
 The development of the whole child and the need to look at individualized instruction and portfolio assessment for every student.
The changing global economy and society and how that affects the roles of school leaders.
The need to rethink the learning day and the importance of bridging school and community.
The increasing amounts of data available to school leaders and the need to translate abundant information into useful knowledge. "
From The NAESP (National Association of Elementary School Principals) publication Leading Learning Communities: Standards for What Principals Should Know and Be Able to Do.
The Solution


The 4 ste

p, student-centered VINCI Blended solution connects the dots together. It  includes
Lesson Planning Tool
Lesson Plans
Content
Formative Assessment
See
Technology
for more details. Contact VINCI for a copy of VINCI Blended Learning  Solution Brochure.
In a typical implementation of VINCI Blended Program, there are 4 steps
1. Teachers plan their weekly lessons, corresponding to the required Skill Units either by VINCI  System of Skills or by district standards.
2. Teachers deliver content both tactile (papers and pencils) and digital, supported by VINCI award-winning digital games.
3. Teachers assess students performance formatively, relying on the Skill System and 5 star rating system – Introduced, Reinforcing, Enriching, Mastered, Applying
4. Teachers adjust lesson plans per individual need.
VINCI Blended Solution includes LMS (Learning Management System) specifically designed for early grades, taking into account students mood and sentiment, digital content, and skill tracking system.
Implementation Examples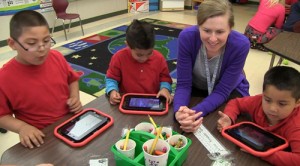 Following are a few examples of  elementary schools or school boards which use VINCI Blended Program:
VINCI School, Ottawa, Canada
EnCompass Academy, Oakland, California
Shelby County Schools, Memphis, Tennessee
Henderson County Schools, Lexington, Tennessee
Alto Park Elementary, Floyd County, Georgia
Humble Elementary School, Humble, Texas
VINCI China ECE Classes, Shanghai, Beijing
For charter schools, or private schools world-wide, our team of experts is also ready to assist you with meeting International Baccalaureate (IB) or Montessori Learning Standards. Designed with skill-based learning units, VINCI Blended Curriculum offers the flexibility to follow children's progress for both advanced learners or children with learning disability.
Contact us
for a Correlation to your state or Common Core standard.